2023-24 BCEHL AAA IDENTIFICATION CAMPS REGISTRATION OPEN!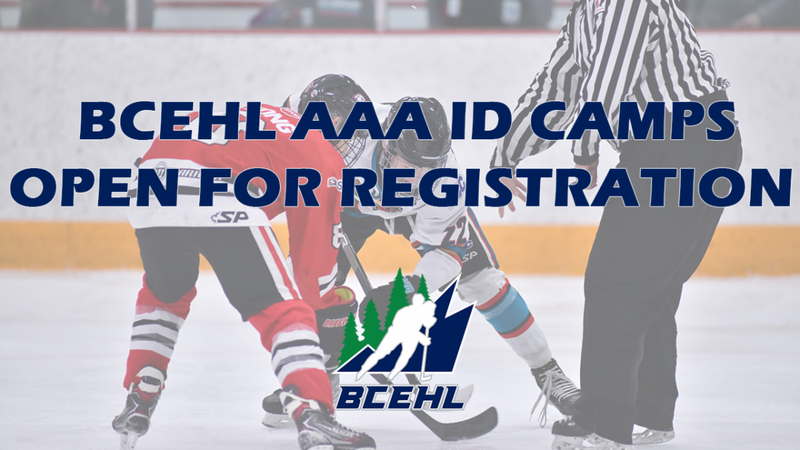 For Immediate Release
February 8, 2023
Saanichton, B.C. – The British Columbia Elite Hockey League (BCEHL) is excited to announce that registration for the 2023-24 AAA Identification (ID) Camps is now open. Please see below for a list of Frequently Asked Questions (FAQs) surrounding ID camps.
Q: Where do I register?
Q: What is the cost to attend the camp?
A: The cost is $400.00 plus GST per participant.
Female U18 - $420.00 total
U18 - $420.00 total
U17 - $420.00 total
U15 - $400.00 total (GST is not applicable to this age group)
Q: Have there been any updates to the BCEHL Draw Zones for the 2023-24 season?
A: Yes, there has been updates to both the Female U18 AAA draw zones in the Lower Mainland, along with the Integrated U18 AAA, U17 AAA & U15 AAA draw zones on Vancouver Island. To read more about these updates, CLICK HERE.
Q: How do I know which draw zone I fall under?
A: Click HERE to review the BCEHL Draw Zones for the 2023-24 season.
Q: When will the BCEHL AAA ID Camps take place?
A: Dates and schedules for the BCEHL AAA ID camps vary by location. These dates and schedules will be released in the near future. This information will be available HERE as it becomes available. Please check back regularly to find the information on your ID camp.
Q: Do I have to participate in a BCEHL AAA ID Camp to participate in BCEHL for the 2023-24 season?
A: All players who wish to participate in the BCEHL for the 2023-24 season must complete an evaluation process to be considered for a AAA roster. These ID Camps are the primary evaluation opportunity for all players.
Q: What if I cannot attend my zones BCEHL AAA ID Camp?
A: If a player is unable to attend a BCEHL AAA ID Camp, the participant must contact the AAA Coordinator. The administration team will then work with the player toward approval of an altered evaluation. Once approved, the player will work with their zone's general manager to coordinate an evaluation.
Q: Where can I find further information on the BCEHL AAA ID Camps, including refund insight into the selection process, camp structure, goaltender camps and refund policies?
A: CLICK HERE for the policies for all BCEHL AAA ID Camps.
If you have any questions or concerns, please email zone@bchockey.net or call the office at 250-652-2978.
We look forward to seeing you soon!