RUSHING BACK TO NATIONALS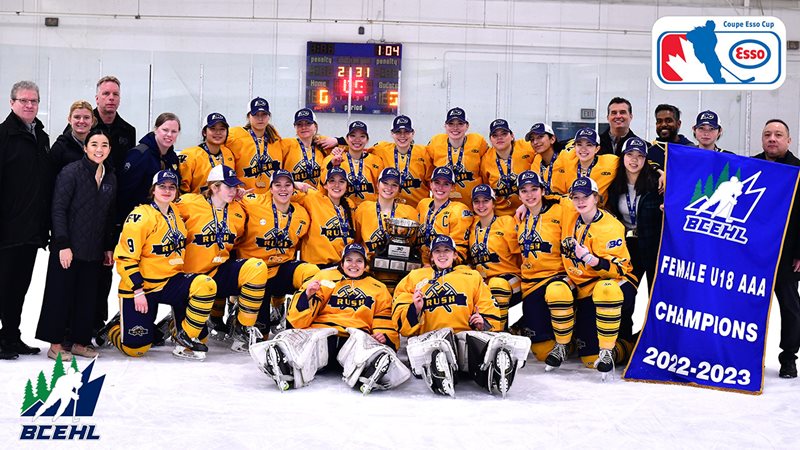 By MARIO ANNICCHIARICO
With silver medals from last year's Esso Cup already in their trophy cases, a gold medal is certainly the Fraser Valley Rush's goal heading into the 2023 National U18 AAA Women's Club Championship.
But the BCEHL and Pacific Regional champions are taking absolutely nothing for granted as they head to Prince Albert, Sask., for the six-team event, beginning April 23 and culminating with the medal games on April 29.
"That's the goal. To be honest, that's the goal, but that's not what we're talking about," says Rush head coach Tony Lindsay, who also led the team to silver in 2022. "We're talking about making sure we're ready for the first game. Last year we got to the final and got the silver medal, which was a great accomplishment for the girls.
"Obviously, when you're in an event you always want to win it, but as a culture and a team we don't talk a lot about that element because that's just something you can't control. We try to take a next shift mentality.
"That's a big focus, especially because we were there last year, and we returned 16 players. We need to make sure they don't think about, 'Boy, wouldn't it be exciting to play in the final again and be on TSN.' That's not the focus," he insists. "The focus is we have a really tough start against Ontario. That's our only focus, is one shift at a time."
The Rush will face the Stoney Creek Sabres on Sunday, April 23 at 2:30 p.m. PDT in their first game at the six-team national event, in which four clubs push on to playoffs.
"You don't win or lose anything in that first game, but you want to create momentum, otherwise you have to work that much harder to recover," says Lindsay.
It's one game a day at the tournament, that caps a season in which the Rush lost just two of 32 games in regular season play in the BCEHL and seven defeats in roughly 65 outings during the entire campaign. Fraser Valley went undefeated in its 2023 BCEHL playoff run, outscoring their opponents 21-1 over four victories.
"I think we know what to expect and what we need to do," says team captain Solana Cooper, who played her minor hockey with North Shore Female Ice Hockey Association and will be attending the University of Calgary next season. "Last year everything was so new and there were so many nerves going in.
"Now, we're obviously still nervous, but there's not a cockiness. There's a confidence, knowing we've been here before and we're a strong team, with veterans and a super full lineup."
That might give the Rush an advantage, but they're not relying on it.
"When we get into those tough situations, in hard fought games, we should be able to come out with that calm and confidence," adds Cooper, who led the Rush in scoring with four points (1g-3a) in two games as the Rush defeated Alberta's Red Deer Sutter Fund Chiefs in a best-of-three series 2-0 in the 2023 Pacific Regional Championship. "The fact that we made it to the (Esso Cup) final (in 2022), we want it now more than ever.
"We know that we're capable of doing it, it's just about whether we can push ourselves when we get there. We want to take in the entire experience and have as much fun as possible, but at the same time I know that we're there to win and everyone wants it that much more having come so close last year."
Mario Annicchiarico is a freelance writer based in Victoria who has previously covered the National Hockey League's Edmonton Oilers, as well as the Western Hockey League.